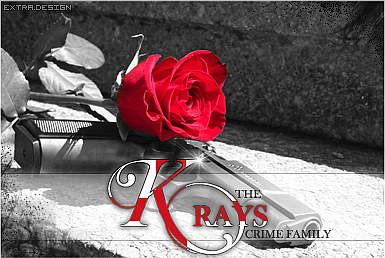 | | |
| --- | --- |
| Founder: | Alphabud, Eltex, Stakky |
| Channel: | #Krays |
| Started: | 2.5 |
| Been up in: | 2.5, 2.7, 2.71, 2.8, 2.8a, 2.9, 3.0, 3.1, 3.2, 3.3 |
| Hijacked: | Yes |
| Alliance: | NONE |
| Sisterfam: | Twins and The Firm |

The Krays Family
The Krays family add a distinct British flavour to this very Italian mafia game. In fact, their name comes from the Kray Twins who dominated organized crime in the east end of London during the 1950's and 60's. Krays was a statement. A statement to represent London in the world of organized crime. You have seen them before; you have seen them up this version. In some way, shape or form you will have crossed paths with this family. And so we have dug into their history, and now present it for you to read.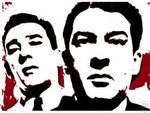 Where did Krays Come From
Krays is a family first seen in version 2.5; however the tops of this family have played much longer than this. These people mostly met from a family called Noble, existing from 2.3. It was a person named Imru who brought this group together, and even when they died, the group kept close, but still ranked and fought inside other families (such as Camposanto, Dolcevita, Myrmydons, Rispetto and Sacred). The names of these people you can still contact today: MrWhite, Starshine, Alphabud, Esniperk, Stakky, Eltex and Xxromeoxx. However, we begin this story back in 2.5, with Noble.

V2.5
Noble had a fairly stable start to life in this version, but their main role was played when they helped Violenza alliance gun down Lucchese. Eager for revenge, Nuevitas targeted them, and a Bruglione account eventually killed Starshine (Donna of Noble). Too weak to kill Nuevitas outright, Noble approached them for compensation and Nuevitas agreed but delayed on the payment, and the next day shot Noble down in the second Violenza war. Noble split, many began to think about retiring. Alphabud contacted Eltex (surviving Noble capo) and then Stakky, and these 3 became the founders of Krays.
Krays for the first time in live famstats
Ranking inside other families, Krays rose and eventually reclaimed the old Noble spots in New York with Eltex being the first don. MrWhite joined from retirement and the family grew from 1 spot to 9. After a large war, Krays took in survivors of the wounded and dying Vincitori, and then let them rank inside. They also helped to set up Trojans (who together with bloods Infragilis) occupied 3 out of the top 5 spots in the family worth charts.
Together with Merovingians and Trojans, Krays took down the remaining CCCE families and the shooters of Vincitori from earlier on, and also managed to revenge Noble by defeating Nuevitas in the same war. Towards the end of this action, successor (now don due to the death of Alphabud) Younggun asked Nuevitas to hand over their family (naturally they refused and were killed). This cause indifference in the Krays tops and he was eventually inkilled by Stakky for his actions. This wasn't the end of their problems however, and Lola hijacked the family after not being allowed to leave. Peri managed to kill her, but died in backfire, and this saw the fall of Krays.
Krays didn't return until much later in 2.6 with MrWhite as don, this time in Palermo, but this didn't last long as the small Krays were shot down by Angelo (run by ex-Krays members). Their only salvation being that Angelo would later be hijacked by a loyalist Krays member (Ilacabatore)

V2.7
Krays decided to start this version ranking with Gracelandian so they could both start in Chicago, but due to limited spots, they were forced to merge together with the understanding Krays would move on and resettle later. Krays had the stronger rankers, and when Gracelandian was settled most of the top rankers were all from Krays (though Krays stuck to their word and named the family Gracelandian). One month later, Krays did split and settle, and soon moved to the Capo Di Tutti Capi (CDTC) rank in the city. Angered by the fact that Gracelandian members were asking to leave for Krays, Jackert (Gracelandian founder) walked out of Gracelandian and moved to Solone family. Just as Krays were ready to take full control of Gracelandian, Jackert returned and cancelled all bloods links and terminated the sisterhood with Krays. To add further insult he then proceeded to blood the enemies of Krays.
With Sigma/Righelli/Curse starting to take control the version, especially after taking down most Baltimore families, Krays and the other Chicago families began to organise a decisive strike against these families. Trotters decided not to participate, and Gracelandian was not asked due to their previous actions and blood links with the planned targets. It was the perfect plan, to unite against a common enemy, however the plans for this war were leaked at the first stage of planning, and as soon as this was discovered by the Krays family, a bloody and disorganized war ripped across Omerta. Krays succeeded in taking down Righelli, but the powerful families of the Sigmas, Mazzaro, Curse, Cursed, Cuore, Illusion, Lioni, Nuevitas, Lucchese, Riot and Torreta pact won out. Even the smaller families such as Gracelandian and Trotters were killed after they desperately jumped in to help late in the war. This was the last actions for Krays in 2.7.

V2.71
This version began in a very offensive manner for Krays, with their first war being to shoot a smaller family (Orochi) who had come into possession of a roulette table, and didn't quite have the ranks to hold this. Krays took a total of 5 minutes to dispossess Orochi of the roulette table, and kill the family entirely. A bit later on, Krays, Essence, Pericoloso and Malvagio decided to attack Hells Angels and Skulls families. Even when two more families jumped in to help HA and Skulls (Infragilis and Novecento), Krays did not take a single casualty as the 4 defenders were brought down. Pericoloso and Malvagia however, did not survive this war.
Famstats before war
Famstats after war
Following the earlier successes, things were looking positive for Krays, but this was not to last. A devastating attack from Lucchese, Essence and Righelli hit Krays with full force. The attack was so well planned and executed, there were not even enough ranks left for Krays to counterattack, and were taken down quickly.
Famstats after restart
Famstats before last war
Not finished with this version, Krays was resurrected later on, but as a much smaller and weaker version. Together with bloods Infragilis, they organized an attack upon the Squad family. Striking early in the morning when few of the target family was on, they succeeded in bringing down Squad, but as the dead soldiers awoke, realising what was going on, bloods were called in and both Krays and Infragilis were gunned down quickly in what turned out to be a suicidal ending to 2.71

V2.8
Due to this version being started right near the European summer, many of the Krays tops found that they were much too busy with other activities to be ranking. As such, the Krays family of 2.8 was weaker than desired, but it still surfaced with Lidia, MrWhite, Peri and Stakky taking charge. Unfortunately Krays would only be involved in a single war this version, as long term bloods Infragilis and Novecento came under attack from GMX Alliance (Guardians, Memento, Xzone) with the help of Samagono and Corona. Always ready to assist their bloods, Krays jumped in, but were counterattacked by CAD Alliance (Control, Alter, Delete -later to become Favians), and like Infragilis and Novecento, were brought down.
Famstats 23-05 (startdate)
Screenshoot of fampage from 28-05
Famstats 19-06 (before war)
Screenshoot of fampage from the 9th
Already weakened, and with more Krays people retiring all the time, a return of Krays became more and more unlikely. Eventually the decision was made to join with the remaining tops of Infragilis and make the family called Profaci (no relation to the 2.9 family of the same name). This was a short reign, as Profaci, along with bloods Crystallize and Fratuzzi were gunned down quickly by the powerful APA Alliance (Anadolu, Prestige, Absolut). The reign was so short, that Profaci did not even survive 24 hours. And this did signal the death knell of Krays for 2.8
Famstats 02-08 (before Profaci down)

V2.8A
Within 17 days of the version beginning it was clear Krays were back and much more powerful after their 2.8 disappointment, and by the end of their first week up, they were involved in their first war of the version. Teaming up with bloods Sudbina, the family Selenga was targeted for the 2 spots they occupied, and due to a few kills on lower ranks too early in Selenga, Krays were forced to shoot the lower ranks first as the don was in the safehouse. Not long after he emerged, Selenga went down, and Krays survived without losing anyone.
Krays up after 17 days
Screenshot of fampage
Famstats from war day
3 weeks later, Krays blood Dragonara began hearing rumours that the much more powerful family Conflict would be attacking them, and preferring to strike first they gathered their bloods (Krays, Tempestuoso, Savonara and Rocafella). With such might against just Conflict it looked like this would be a victory, but once again plans were leaked, and Conflict (while being attacked) drew their blood alliance in (Nuevitas, Righelli and Illusion) along with Selvatica. Losses from both sides were massive in an enormous war, and it took a total of 4 hours to bring down the attacking families blooded to Dragonara, while Righelli and Selvatica also died during the conflict.
Famstats before war
Screenshot of fampage before war
It would take another 3 weeks before Krays resurfaced, this time in a family named Pacciani, which was a merger of Krays, Crystallize and Infragilis. The majority was Krays people though, and a distinctly Krays feel began to emanate around the family. Soon though, two bloods of Pacciani (Cartoons and Delirio) along with some other families (Capulets, Dragonara, Merovingians, O.F.C., Suspectz and Trotters) were attacked by a large syndicate of families (Rispetto, Cosanostra, Blacksea, Kowloon, Selvatica, Untouchables, Righelli, Corona, Conflict and Illusion). Although Pacciani were not directly involved, they stepped in and concentrated fire at Corona, and took many high ranked accounts down, but with the assistance of Camarillia (Corona blood), Pacciani fell.
Famstats from the day Pacciani starts
Famstats from war dayr
With enemies of Krays taking command of this version, and return was bound to be brief, and it was. A single ranker (Sus) raised Krays to wish all of Omerta a Happy New Year. A Rispetto capodecina killed Sus and with him Krays in just a few hours. Now Krays turned their attentions to the impending reset and began planning.

V2.9
Krays took their time appearing in this version, and were the 45th family to rise. All their usual tops were back and things were looking up for the months ahead. It took a total of 10 days for Krays to be involved in a war. And what a war it was. Due to the changed killing algorithm (KA), the war lasted for around 15 hours, when peace fell due to lack of members and bullets. Krays sided with Kerberos, Notte, Provenzano, Castiglia, Valahia, Rocafella, Riot, Marazzino, Esperanza, Sudbina, Anadolu, Orion, Influente, Atrocita and Prestige to shoot at Conflict, LCN, Ilteber, Corona, Letalis, Elegante, Lucchese, Medellin and Morello. Backfire kills were massive, but the Krays side eventually triumphed.
Famstats from the day Krays started
Famstats day before war
Famstats day after war
Not long after, Krays along with Coccada, Deluccio, Laonda, Cristeria, Marazzino and Provenzano opened fire on Lucchese, bringing them down. Bloods Trafficante jumped in to help Lucchese and fired at Cristeria, but had little effect and also went down fighting against superior numbers. Still on a high, Krays then proceeded to shoot down Conflict for a second time in the version with the help of Marazzino and Rocafella. Dominaire, Casaloco and Ilteber tried to help the newly returned Conflict but were also gunned down after Uncensored, Mediterrano, Bross, Greco and Liberta joined the fight on the same side as Krays.
In the first negative of the version, Krays were hijacked by Saviour who managed to kill Peri. Kicking all members and emptying the family bank, he was killed by Spank (Godfather of Mediterrano). Krays were forced to restart and boosted most of their capodecina's back in short time, and as a demonstration of power gathered the families of Vincitori, Bruinsma, Ferocitas, Justicia, Profaci, Trakia and Vycarious to kill Letalis and sister Kushimato.
Famstats before highjack
Famstats after highjack
However, Krays were to die again this version. And in a massive war which started with Favians attacking Notte and Kerberos in an effort to revenge Letails, turned into a massive shootout with almost every family in Omerta taking part. Memento, Samagono, Conquista, Sangre and Calogero opened fire on APAS (Anadolu, Prestige, Absolut, Signoria). 14 families died this night, including Krays, in a war that saw the power of Jans (Sally - Donna of Favians) demonstrated to the fullest.
Famstats before war
A few weeks later, Krays reappears with Zev as don, and lives until the final war of the version on the 15th of June. The attention of the tops then turned to version 3.0, as with the release of the beta version everyone's focus shifted. So ended the reign of the mighty 2.9 Krays Family.
Krays starts once again
Screenshot of fampage
Famstats before Krays down

V3.0
Fampage of Krays
Screenshot 25-08-2009
With the dawning of version 3 of Omerta, Krays found themselves ready to go again, and purchases a 50hq initially, but due to the rapid expansion and gaining of more rankers, they soon moved across to a 300hq. They have been in multiple wars this version already, firstly defending from an attack by 20 families (including APAS, Favians and bloods, Samagono and bloods, along with some of the families that would form ANPT) against Krays, Vincitori and bloods, Amazing and bloods, Hattrickelli, Indelicato and bloods and Trafficante and bloods. Krays survived this war, and since went on to attack Memento, Samagono, Sicilians, Hools and Blitzkrieg with the assistance of many of their bloods.
Famstats 29-09-2009 (before war)
Famstats 30-09-2009 (after war)
Krays then took part in the first shooting of Favians, in a war that dragged out many days and ended with a truce due to the fact no one had any bullets left to fight. Krays were then attacked by a syndicate of families (Akronia, Signature, Perforta, Komisja, Mangano, Vincenzo) in order to revenge the shooting of Krays, but the attackers were held at bay, and Krays lived on to fight another day. This other day would be the shooting down of the FaCaVa alliance (Fatoslocos, Casappa, Vaffanculo) for the attack on bloods Righelli, after war plans made by FaCaVa and Righelli were leaked, leading to each blaming the other and all out war. Then comes what could be called the finest hour of Krays this version, teaming up with ID&T (Indelicato, Destination, Talamasca), Gravano, Pavleone,
Marazzino, Riot and Uncensored, a huge war was unleashed over Omerta, bringing down the ANPT family and all its sisters in one swift, decisive blow that has left the version in a fragile state in which we still exist.
Famstats 10-11-2009 (before war)
Famstats 12-11-2009 (after war)
Famstats 15-12-2009 (before war)
Famstats 16-12-2009 (after war)
Screenshot 22-04-2011 - Statistics
Screenshot The Firm - sister family
A big thank you to MrWhite for access to this information.
comments
---