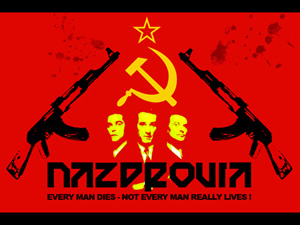 Founder:
Mogilevich
Channel:
#Nazdrovia.members
Started:
2.3
Been up in:
2.3, 2.4, 2.5, 2.6, 2.7
Hijacked:
No
Sisterfam:
Paradise, Patriarca
Alliance:
(Nine) 2.3
(Castigare) 2.4
(Violenza) 2.5
(ERA) 2.6
(Letalis/Ninja) 2.7
(Northanic/Guajardo) 2.7b

Nazdrovia 2.3
Nazdrovia started and was founded at start of version 2.3.Tops were Mogilevich & Yamaguchi. After a huge war at start (Los Tigres - Fatoslocos) We built as 3rd fam of v2.3. In the middle of version 2.2 we decided; "Nazdrovia" family name when we (me (Yama) and Mogilevich) were eating kebab in Ankara. So we started those with 2 people, opened a channel and tried to find 2 more people to register it. Then we saw lots of people without family. We meet 1 by 1, invited and talked with them about the family. We became 1 of the strongest family of 2.3 (After Aequitas). We met with Notte. Notte was also a new family from the Gecce crew. At the same time we met with Incubo and we decided to build an alliance with them. With Nazdrovia(Corleone) Notte, Incubo, Eclipse (Baltimore) we built the Nine alliance.
After one of us (Yama) suicided on the don of Psicopaticos (Hipkiller), we left the Nine alliance and they became "ine". After 2-3 days Psicopaticos and their 8 More bloods shot us down. Families were Coccada, Fatoslocos, Marangello, Deluccio, SCU, Antevorte, Psicopaticos, Nuevitas and Lucchese vs Nazdrovia.
After 2 months we got up again, this time it was during a war between Affinitas and MMTC. We started in Palermo and shot down 1 family of the MMTC alliance (Cuervo) down and gained the spots. After a month while we were growing one our ex-member(Calieri don) suicided to our don(Yama), because of some personal reasons. After this Nazdrovians decided to retire from v2.3. We shot Portucalia down from Palermo and got shot down by their bloods.

Nazdrovia 2.4
At the start of this version all Nazdrovia tops were still on vacatation so we got up a bit later then plannend. In the middle of 2.4 We built Nazdrovia again.Tops were Yamaguchi, Canel, Kusto. We came up again during a huge war and started in Palermo. We shot Fatoslocos this time and gained their spots. We tried to grow fast because the other families were very huge because of the ranking-speed this version. Because of this we tried to create an alliance. We created the Castigare alliance with Diavolo and 2 more families. Personal problems between Yama and Nostrezzz end up with Castigare being shot down by the LGP alliance. After this we didn't try to come back again, as the version was as good as over.
Thanks to Yama for submitting.
comments
---
Michael
(17:09:25 - 21-10)
Barayev
(04:07:01 - 23-02)
LL

(14:16:42 - 17-08)