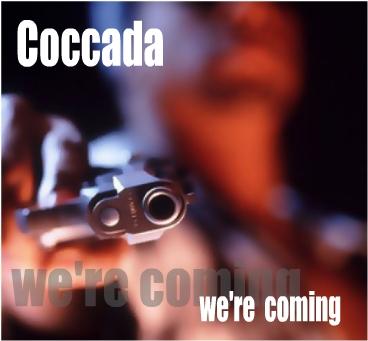 | | |
| --- | --- |
| Founder: | Hedonista |
| Channel: | #Coccada |
| Started: | 2.0 |
| Been up in: | 2.0, 2.1, 2.2, 2.3, 2.4, 2.5/2.6, 2.7, 2.7b |
| Hijacked: | Yes |
| Alliance: | 2.2 - CYCLO, 2.3 - VeCoMa, 2.3 - Bloodpact, 2.4 - CoMa, 2.4 - OMNI, 2.4 Bloodlink |
| Sisterfam: | 2.3 - Massive, 2.4 - Phalanx, Favela |
More than one family. One lifestyle...

Coccada 2.0
Coccada family started in January 2004, with the reunion of some Brazilian players that met in a humoristic forum (www.coccadaboa.com ), today transformed in blog.
At that time the game was a lot easier, players didn't knew each other as much as nowadays, with less alliances and ambitions. Game was pure diversion and fun, as will be explained some time later.Initial members were: Hedonista, Rodrigo, Ragdoll, Caio, Donkarioca, Durden, Malkaviano, Jsgiorno, Piovesan, Marcelo, Edmatos, Amaral, Mrburns, Burro, Santo, Peaodomato, Yozza, Dapamonha, Xdart, Stan, Floyd, Excto and Paunocu, all Brazilians and those aggregated some other nationalities players to the family (at the time mostly Dutch).Back then there wasn't a trustable place to sell the Witness Statements (made on IRC in a channel named #ws), and that made shooting more easier, because of that you didn't had to be so scared of future reprisals, and because of that, Coccada helped some families to be founded.Another interesting thing that helped to Coccada formation was that due to the game unexpected success and server overload, admins blocked the registration of new accounts, so players were afraid of loose their accounts, and because of it rarely wars happened.It was much more complicated to start a family because of cost and available space, at the time spots were fixed, in a smaller amount and much more expensive, and that demanded 1 alliance with a family to shot down another family to free 1 spot and take it That created a lot of friendships that last until now, as dozens of enemies, especially after the development of WS's falsification system by Paunocu (Caleb on IRC), were we shot and after we denied the WS truthfulness, who brought to family fall near version ending. Another thing that provoked anger between others players was our way of play, entirely unconcerned with the fact of being able to create new accounts in case the current died or not. We always shot without measure subsequent consequences (still more when it went to help friends), and still we treated that with disdain, and with that many found that was lacking of respect. Already in the first version we were obliged to hear from a don that had his family knocked down by Coccada, that "He would kill Coccada every time he saw us in the game"

Coccada 2.1


2.1 Tops:
Niilista, Seit, Mrburns, Caleb, Karioca, Chopps, Furacao, Sergipano, Balboa
The version began in July of 2004, with few modifications regarding the previous version, however the game had problems in the server and stayed stopped for 1 month approximately. In the game return, it come back with some implements, as the channel of Witness statements negotiation by the Obay (in the current format) and with the implementation of the Killing Skill (in the version 2.0 there wasn't, being able an Empty-Suit to kill a Godfather - fact occurred - being enough for that to have 60K bullets). Once again, Coccada is formed, thanks to the alliances and friendships obtained in the previous version, however with less players of the original formation. That round begun to have more diversity of players (in that version begun to join some Portugueses, that helped enough Coccada), starting Portucalia with Coccada's help. The first version of the family lasted to, approximately, January of 2005. Once again, by divergences between other families, Coccada was knocked down, due to the treason of an ex-member that formed another one family and wanted to help his Dutch friends. As barely all the players were dead and obliged to start from nothing, the family stayed some good months outside of scene, and its members inside other families spread by the game (but still reuniting in the IRC channels). Arises then the opportunity to start again the family. One of Coccada's players (Karioca), joined a family called Accilatem, from a friend of him at IRC, and the friend affirmed that put him as Don Successor. As usual we play for fun and without worry with the consequences of the acts, we had the idea of kill the Don of the Accilatem, all of the tops and assume the family as Coccada. With everything arranged, we gathered our best players and we began to shot. Early morning in Brazil, around 70 players online, then Mrburns fired at the Don, dying in backfire. Then Karioca assumed the position of Don, kicking all the members more qualified to be killed by us (all players above assassin were exterminated, to avoid any attempt of reprisal). The next day we were accused of traitors and violent, therefore the dead persons said that wasn't necessary such slaughter for obtain the family. However, it costs 100 millions to change the family's name, which was maintained for some months until we obtained the necessary money. We continued the game and the name of Coccada reappeared. Technically, we are the parents of Hijack, which up to that time never had occurred in any other family. That happened in March of 2005. Coccada resisted until the end of the round, being knocked down only in the "killing spree" that occurs always in the end of round, with admins giving "super powers" to all the players. Then begins the first version of the deathmatch - initially was predicted barely for during the exchange of the game servers, to not leave players in the expectation, since the admins notified that would go to delay the version 2.2 release.
Coccada Family page 2.1

Coccada 2.2


2.2 Tops:
Seit, Ishma, Habix, Marecare, Bones, Balboa, Guerrero, Sirlights, Mrburns, Sarevok, Elminister, Chopps, Sergipano
Coccada didnt start at the beginning of version. But started 2 months later in Detroit by Habix who later passed don spot to Seit. In that version Coccada also get few new tops: Ishmahell, Bones, Marecare, Guerrero, Sirlights and Habix. This version we recruited those who would become one of the most loyal core groups in a family. After few weeks we formed Alliance called CYCO. Later by adding on Laonda it was renamed to CYCLO. CYCLO was soon after killed by CCCE because some fam in cyclo backstabbed others.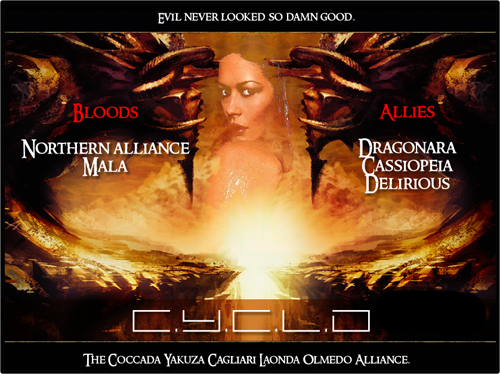 Coccada Family page 2.2

Coccada 2.3


2.3 Tops:
Seit, Ishma, Habix, Marecare, Bones, Balboa, Guerrero, Tisaba, Dantedy, Raven, Niilista, Avataro, Blackvelvet, Sirlights, Mrburns, Sarevok, Elminister, Sergipano, Boby
Coccada started as one of the first fams and was based in NY. The founder of Coccada was Seit but not long after he passed the don spot to Niilista because of real life problems. They soon formed alliance called VECOMA ( Veneratio , Coccada, Massive ). Their first war was against Nazdrovia with help of Nuevitas, Marangello, Lucchese and some other fams because of some rumours of Nazdrovia planning to shoot "the old school fams". A secret alliance was almost to be made with those fams but Coccada was not able to agree with some decisions and jumped out, soon after those fams were killed by Aequitas and Union alliance. Vecoma next day revenged their friends with help of Moretti and killed Union alliance, fallen bloods were later to make a fam together; Vecchia, and taken into VECOMA alliance. Next war was against OMFG ( mostly CCCE fams from 2.2) because of revenge from what happened in 2.2. Niilista was killed in that war and new don was Bones who was soon after killed by a suicider and new don was Seit. After that war, VECOMA was one of the strongest and alliance with most objects in the game, because of that INE alliance decided to kill VECOMA. When INE attacked VECOMA, VECOMA bloods, MMTC ( moretti family) and Affinitas joined in and Killed INE but failed to save VECOMA. Coccada decided to make family together with Sacracorona; until Guerrero put Coccada back up the 2 fams continued to work as 1. . After few weeks SCU and Coccada joined alliance called Bloodpact (Coccada , Scu, Lucchese, Fatos and some others). Bloodpact then decided to kill ASA ( Aequitas family). Next day Bloodpact was killed by PIMPS and TVCR. And that was the end of Coccada in 2.3.
Coccada came back later with name Phalanx founded by Ishma.
Coccada Family page 2.3
Massive Family page 2.3

Coccada 2.4


2.4 Tops:
Seit, Ishma, Habix, Marecare, Bones, Balboa, Guerrero, Tisaba, Dantedy, Raven, Niilista, Avataro, Blackvelvet, Sirlights, Mrburns, Caleb, Chopps, Celio, Sergipano, Aella
Coccada again started in NY as one of the first fams and formed alliance called COMA (Coccada and Machiavelli). Coccada was founded by Donghunter but he soon passed don spot to Balboa. COMA first war was against The Legion with Affi, Fumatore, LPG and some other fams. Soon after Moretti joined alliance with COMA and renamed alliance to Omni. Next war was against Fastigium alliance because of the rumours about Fastigium looking for fams to take down Omni. Because of a lot of huge alliances in the game Omni decided to form a great Bloodlink alliance with Malanoche and their sister families. Few days later Bloodlink started one of the biggest wars in Omerta history. It was Bloodlink and Empire alliance who attacked Devilspact alliance which was at the time dominating alliance in the game. Although Bloodlink and DP were bloods, Bloodlink thought that DP is not to be trusted and with killing them version would be more open. Also Bloodlink was not happy how DP was recruiting families instead of members. War ended with almost 400 brugs dead and DP and Empire alliance down. Soon after Bloodlink heard rumours that Asesinato, The Order and Silence Alliances wanted to attack them. Bloodlink who was mostly bulletless decided to attack Silence and took it down, but was later that night killed by the alliances of Asesinato, The Order and LPG.
Coccada was built once again later that round to be shot within minutes by LGP and The Order fams. In the end of 2.4 there were some arguments in Coccada top, mostly about DP war and Niilista ended up leaving.

Statistics page 2.4
Phalanx Family page 2.4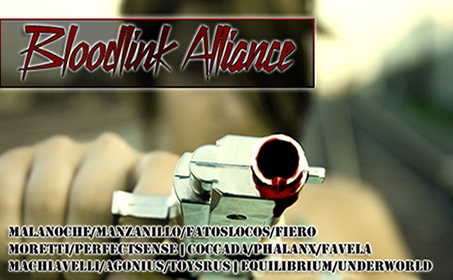 Coccada 2.5/2.6


2.5/2.6 Tops:
Seit, Ishma, Habix, Marecare, Bones, Boby, Raven, Dantedy, Avataro, Itsfunny, Blackvelvet, Potverjan, Robsta, Balboa, Caleb, Chopps, Sergipano
Coccada was again started in NY by Johnnny in the start of the version. Johnnny later passed Don spot to Seit but was killed by a suicider and Raven became new don. After Seit died he decided to retire from Omerta and left Coccada to be run by Ishma, Raven and Bones. After few weeks a brug from Coccada suicide on Pasajero Don ,and fearing Coccada would rather kill than pay, opened fire at Coccada straight away. Coccada won that war with help of Righelli but lost most high ranks, Raven died and new don was Bones. 1 week later Coccada was took down by Violenza Alliance.
Coccada came back 1 month later in Philly. Founder this time was Itsfunny. And was soon involved in a war helping bloods Shadows to kill Valahia. Itsfunny was killed in that war and Raven became new don. Coccada then was participating in many wars such as against Decavalante and Agrigento, week later helped Merovingians when Bruins attacked them. One week later killed Rizzuto because they attacked Merovingians again. Then 3 days later Coccada killed Talamasca. At the end of the version Coccada was shot down by ERA alliance.
Coccada Family page 2.5/2.6

Coccada 2.7


2.7 Tops:
Ishma, Bones, Marecare, Raven, Dantedy, Angela, Itsfunny, Patinho, Avataro, Nofears, Borelli, Balboa, Caleb, Chopps, Ferra
Coccada again started in NY by Nofears. Coccada started first war in 2.7 against Valahia with help of bloods Esperanza for spots and objects. Next war was when Sigma came to Coccada asking if we wanted help them kill Turkuz family. Coccada said yes and went in war but when war started they saw their bloods Esperanza was also killed by Illusion and Curse. After few weeks Coccada killed Provenzano but was killed by Letalis and Ninjas and their bloods 1 day after, however those fams got shot that same night and Coccada came back a few days later, this time don was Raven. Coccada was up and in peace for 1 month when Raven was killed by a Brug and the day after the new Donna Angela got killed and Coccada was hijacked, but before Coccada went down, Coccada top gathered 25 millions Dantedy made Coccadians and killed Coccada's hijacker getting all spots back. But Dantedy was killed by another Brug few hours later and Patinho become Don. Few days after Coccada (Coccadians) were shooting in Chicago war helping their bloods. One month later Coccada was participating in war against Incubo, the strongest fam at that time. later in version Cuore attacked Lucchese who were not bloods of Coccada but Sigma ask for help and Coccada joins in since Lucchese were their friends for many past versions. When reset was announced Coccada decided to shoot at Hispania and Kowloon, because Coccada was the only fam remaining they were not blooded to, they were twice Coccada's size and rumours said they wanted to shoot Coccada as a reset party, Hispania was down in few seconds, Kowloon went down after Coccada's shooter came out of safehouse for a second shot, but then Riot and Squad people tagged with Hispania + Kowloon and shot Coccada down.
Coccada Family page 2.7

Coccada 2.7b


2.7b Tops:
Ishma, Bones, Raven, Dantedy, Angela, Patinho, Ladyjane, Rollotomazzi, Panico, Borelli, Spooky, Balboa, Caleb, Chopps, Ferra, Moonburn, Avataro
As usually Coccada started in NY, this time by Dantedy. Coccada made alliance with their old friend Natarelli ( Esperanza). But that alliance was broken soon after because Natarelli wanted to shoot at Conflict, Illusion and Curse who were also close friends of Coccada, Curse even being blood at that time, Coccada went on their own. Few days after the break off the alliance, Coccada with help of Voyna killed Memento and Xzone because they had good object but was not very strong. And two weeks later Coccada was asked for help by Cosanosta and Voyna to kill Deluccio and Valahia since they had some info Cosanosta would get attacked that night. Two weeks later Coccada bloods Conflict were under attack by Tempestuoso. Coccada joined in to help Conflict but was later shot down by Vicaria, who was tricked into believing Coccada was about to shoot them.
Coccada came back again after few days. The don was Raven. After 1 month of Peace for Coccada, Inzerillo came asking for help to kill Letalis and Starbucks who was planning to kill Inzerillo according to rumours. Coccada joined in the war but was killed by Leviticus who was fam made from Deluccio and Valahia. Coccada came back again after few weeks, this time founder was Patinho.
And after 1 month we come back again, and still up at the moment, waiting for another reset.
Thanks to Ishma, Bones, Raven for submitting.
comments
---