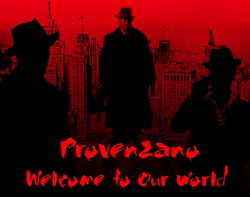 | | |
| --- | --- |
| Founder: | Guti, Firestorm, Maxi, Jostie |
| Channel: | #Provenzano |
| Started: | 2.1 |
| Been up in: | 2.1, 2.2, 2.3, 2.4, 2.5, 2.6, 2.7 |
| Hijacked: | Yes |
| Alliance: | (PRL) 2.1, (PRL) 2.2, (Union) 2.3, (Unity) 2.3, (Provenzano/Bruinsma) 2.4, (Violenza) 2.5 |
| Sisterfam: | Liggio, Rizzitello, Navarra |

Provenzano - 2.1
In 2.1 we founded Provenzano for the first time, together with Liggio and Navarro, We chose the name Provenzano because Bernardo Provenzano was the don of a mafia family in Italy and from there Liggio and Navarra (Navarra was made in 2.3) were easy names since they belonged to Provenzano families "gang" the first founders of Provenzano was Guti and the founder of Liggio was Jakes/Hengist and Chillos, Navarra was founded by Payne. Provenzano always started in Palermo since Provenzano was an Italian Maffia family.
That version we had war with Lucchese, Squad, Odio started early morning when the don of prov Advisor was killed by a LSO "suicider" After being shot, Advisor called for war so we tried to gather as many people and started shooting LSO, we managed to kill Odio and killed all Squad Brugs but LSO called in help from Gambino and Portucalia. After this war Admins resetted the version. One person that was really important for Provenzano in 2.1 was Loosecanon, without him Provenzano wouldn't have survived the start of Provenzano.

Provenzano - 2.2
2.2 was a mess for Provenzano, Provenzano invited lexophilia into the family (ex LSO top). Lexophillia made warplans against own bloods Bruinsma, that was the breakup with that alliance ( I don't recall how that alliance was named). Then there were the internal Problems with the Righelli people, Righelli wanted us out since they saw us as a problem, Jakes the founder of Liggio was told in some words to leave the top channels, Some of the members were mad and they were gonna have a meeting about it to talk out differences. But A day before that the "old" member that felt pushed out had a meeting all together, talks got high since alot of people were mad at Righelli, and were talking about shooting them, but one person from the channel leaked the talkings and in the evening all the persons that were in that channel got shot. After this some Provenzano members decided to settle the score and hijack Liggio. In the Provenzano / Righelli / Liggio alliance CCCE once helped Provenzano in a war as a "thanks" they got Provenzano, not much later CCCE payed 100 million and changed the name of Provenzano into Catania they agreed with Righelli to buy it for 125 Million after they went down. Money that they got for Provenzano went to Righelli

Provenzano - 2.3
2.3 Provenzano started with Union Alliance (Provenzano / Liggio / Bruinsma / Navarro) there were other families in Union but they backed out Families. The first war we got in that version was against Provenzano / Liggio / Bruinsma / Navarro / Aequitas / Aqui against Lucchese, Squad, Marangello, Nuevitas, Fatoslocos, SCU. The war started out bad since we got some backfire kills because KA was terrible at the beginning of the version, later we went down because other families saw our weakend state and stepped in. After our war Admins changed KA. We decided to rebuild Provenzano again, after a while we joined Unity Alliance (Squad / Provenzano / Savoye / Bruinsma). After joining Unity alliance, we got in a huge war, this war started when one of Unity's bloods, Ascension collapsed, Bruinsma talked to Savoye about possibities to maybe even shooting Affi/pimps because they shot at Ascension, somehow this got leaked and it resulted in the war we were shot by almost 50 families, including Squad and Savoye who were in the alliance.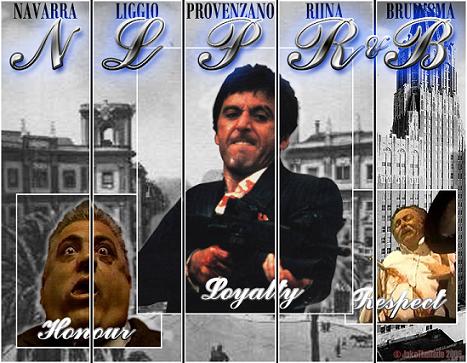 Provenzano - 2.4
2.4 we made an alliance with Bruinsma, for the first time Liggio tops went their own way because of some disagreements with us. We were shot by LGP alliance (Latobuio, Gambino, Piscina) and Lucchese. Later that version we made Provenzano again but got shot down by LGP alliance

Provenzano - 2.5/2.6
Version 2.5/2.6 Provenzano decided to start with there good friends Nazdrovia, we knew Nazdrovians since 2.3 we trusted them and thought about workin together for the 1st time in 2.5/2.6, Bergzilla was made Consig of Nazdrovia to show we were good friends, it reinforced the trust in them, In 2.5 we formed Violenza Alliance (Provenzano, Larochela, Nerezza, Nazdrovia, Syracuse, Solntsevo, Mysterious), with Violenza we had many wars, some of the wars were Violenza against Lucchese, after that war we got suicided by Nuevitas, Nuevitas was quickly countered by the Violenza Alliance and was brought down together with Salvatrucha, day later we attacked Coccada with Violenza, a few days after that Violenza Alliance was brought down.
Later that version we started Violenza family first and made Provenzano again inside Violenza, we got killed in a big war, Tempestuoso, Valerio, Vinceremo, Calamari, Iliria, Trotters, Portucalya against Comitanza, Provenzano, Violenza.

Provenzano - 2.7
Provenzano went up as the first family of the version After Chica ranked hard and started strong, but Provenzano's luck quickly changed when they went from the first Family up to the first family Hijacked. After getting up again they grew back to a good size, and were doing good again, till that day Suicide Monday it was called were several suiciders took the top members of Provenzano wich ment the downfall for Provenzano again this version, after not much time Provenzano got back up again, all seemed to go good, till another hijack on Provenzano, this time the don Afraid got shot by Ordulu, Ordulu his account was hacked by his friend `Guu, `Guu had his plans set hack Ordulu's account and then settle a personal score with one of the members of Curse, after a while Ordulu regained control of his own account and invited Escobar to the family, Escobar was set as succesor and Ordulu was shot, luckily the spots were not lost, Then while still recovering from the wounds inflicted by the last hijack Coccada decided to end it for Provenzano that version, 29-08-2007 they decided to shoot at Provenzano. Provenzano was heavily outnumbered so brought down pretty quick. 2 days later our very close bloods Letalis / Ninja and Colombo took revenge for us and shot Coccada down.
That was the end of Provenzano in 2.7. Even tho Provenzano were down many times in 2.7 we had fun to be there in 2.7 and showed we weren't going away that easily.

Provenzano - 2.7b
2.7b we didn't get up as Provenzano but helped Nazdrovia in making a family Northanic was a family with Provenzano and Nazdrovia rankers.
Again we did it with the people of Nazdrovia since they close friends of us. Northanic started strong but didn't last long as we were in one of the biggest wars this version Curse / Conflict / Righelli / Illusion war in wich alot of families went down including Northanic.
Thanks to Morti, Primo, Killerzzz and Chica for submitting.
comments
---
sbanks
(21:25:01 - 12-12)
Rebel
(20:52:11 - 12-12)
Maddox
(14:35:36 - 29-11)
Mcgee

(11:41:58 - 28-08)