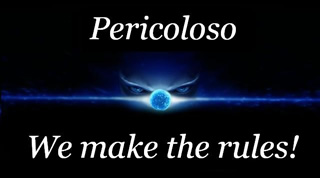 | | |
| --- | --- |
| Founder: | Loosecanon(2.1), Fire, Mal(2.7b) |
| Channel: | #Pericoloso |
| Started: | 2.1 |
| Been up in: | 2.1, 2.7b |
| Hijacked: | No |
| Alliance: | PVP 2.1 (Portucalia Valerio Pericoloso) |
| Sisterfam: | Malvagio |
| Extra: | Pericoloso = Dangerous in Italian |

Pericoloso – 2.1
In 2.1 When I (Fire - Firemachine) started playing I joined Pericoloso, leaded by Loosecanon, Disturbed & Coreytaylor. Pericoloso that time was allianced with Valerio & Portucalia and had strong bloods like L.S.O. and other alliances like Gambino/Gamano/Merovingians and The Syndicate (Leaded by Tempestuoso). Pericoloso had a strong name and came out good with wars. When there occured some inside problems, some thought it was necessary to leave to L.S.O. and they shot their 2 best Bruglione's down afraid for revenge based on a false log.
Next day Pericoloso went down, cause a group showed loyalty and attacked from the inside. Then L.S.O. shot the rest down to keep control on the situation. Pericoloso never went back up after that. The Original tops and founders stopped playing.
Family Page 25-03-2005

Pericoloso – 2.7b
In 2.7b we (Fire, Mal, Murati, Deaglehunter, Cleudys, Promo, Bornpro) brought life back in Pericoloso. It was especially the wish of Fire to bring back the old glory of Pericoloso. The start up went a little slow, but eventually we got the spots and green light. A lot of old 2.1 Pericoloso & Valerio players joined Pericoloso again. We had strong bloods: Lucchese/Nuevitas, Tempestuoso, Vicaria, Marazzino, Righelli and Essence.
Pericoloso was expanding and growing, by the end of February we were the 4th strongest family on the fingon famstats. Eventually we built up our sisterfam: Malvagio, with Bornpro, Cleudys and Promo as tops, though Pericoloso and Malvagio were acting as one.
By the way, in 2.1 was Fire (Nooblione) capo of Pericoloso and were Mal, Cleudys and Deaglehunter Valerio tops and was Promo a Portucalia top.
Wars we were involved so far:

Pericoloso + Rizutto + Hellsangels <-> Gelibolu + Esperanza + Youthanasia, we especially shot Gelibolu for famspots in Baltimore that time.

Corona <-> Nuevitas/Lucchese, Righelli and Pericoloso.

Further we jumped in a couple of times when NLS was under attack.

We started a war against Hellsangels + Skulls for shooting at our bloods Tempestuoso. When we shot these 2 family's down, Novecento + Infragilis jumped in on their bloods and shot a lot of our highranks down, suffering a lot of backfire's, eventually we managed to shoot down both family's also, but the surprising and strong attack of these 2 families also ended in resulting Pericoloso + Malvagio down

Pericoloso – 2.7b (2nd time)
Back up again & running. With basically the same tops as the first time, with Zac and Binary added, Pericoloso decided to go up for the 2nd time, this time in New York. Thanks to all these families for giving us permission. Basically Pericoloso has the same bloods as the first time in 2.7b, although some are RIP now.
Thanks to Fire, Cleudys, Mal, Promo and Murati. for submitting.
comments
---
suppressor

(05:37:07 - 01-03)