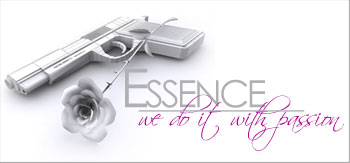 | | |
| --- | --- |
| Founder: | Gunsandroses |
| Channel: | #Essence |
| Started: | 2.2 |
| Been up in: | 2.2, 2.5, 2.7b |
| Hijacked: | No |
| Alliance: | VTEBE(2.2) |
| Sisterfam: | No |

Essence started in 2.2 for the first time
Lucchese started with Marangello that version. the combination of the 2 families was called Sanguinea. But a small element of Lucchese was not happy there and left reform a new family. To make this dream a reality Watjemoetdoe and Sixpack gambled like crazy men and won $140m in 1 day to build the family and pay leave monies to Sanguinea. The name was chosen as Essence because we were at that point in time the "Essence of Lucchese" or the heart and soul of it. Original tops were Gunsandroses (AKA Passion), Watjemoetdoe (AKA Oozywoozy), Sixpack (AKA Katsumoto), Pritalex, Loosecanoon, Dancingqueen, Donalesi, Eldior and Morenno.
Essence joined what became known as the VTEBE alliance. Vincitori - Talamasca - Essence - Bruinsma - Escalada. I do remember that the ones who attacked our alliance was CCCE and that they said they never wanted to kill Essence but that we shot with our alliance 1st One of friends at the time Bloch was in Catania (which was also 1/2 Lucchese at the time) shot back at CCCE.
2.3 + 2.4 there was no Essence. I retired and other tops went in other dirrections.

Essence started in 2.5 for the second time
Then came 2.5 I restarted and Nuke and Bbuurt got the idea that WE should restart Essence. They brought in Changa to the family top who brought in Wazted as well. And we also picked up Poca, Smurf, and Ststorm. We started with the reset that version. There were some set backs. Bbuurt resigned the top after he suicided (though it was his sacrifice that made it possible for Essence to go up) We dropped Nuke (at this point the family still wasn't up yet) the tops was reduced to Gunsandroses, Changa, Poca and Wazted. After a while of ranking, we picked up Marko to the top as well. In the end Markos wife was in Conquista and SCU shot Conquista. When his wife died Marko suicided on SCU . So we died in the ConquistaRIP + EssenceRIP <-> Sacracorona + Vaffanculo war.
Our Bloods were Bruinsma, Hellsangels, Lucchese, and Hispania. We worked very closely with Bruinsma and we had a good run and always fought with and for bloods.
2.6 + 2.7 There was no Essence. I was again retired and all of the others decided to go their own seperate ways again.

Essence started in 2.7b for the third time total.
Changa and Poca decided they wanted to rebuild Essence. They brought in Mellie and Proxy and they asked Gunsandroses to come back to help build it again. The basic top changed to; Changa, Poca, Gunsandroses, Mellie and Proxy. When I died it was decided that we really needed to bring someone else into the top. Qausi` was chosen between our rankers to be our next member of the topchan. First time we were up this version was all good for us, we were blooded with; Pericoloso, Kowloon, Lucchese/Nuevitas, Letalis and Gehenna.
We shot with bloods 7 times, against; Sudbina, Hellsangels, Camelot, Krays, Crnuce, Hispania + Kartel, Marazzino + Bafiro. surviving all of it giving out some losses each war. Never grew so big this time coz of many wars we did. At Marazzino + Bafiro war that we joined with Righelli and Kowloon was the last one we succeeded in, We took really heavy damage, and some days later our bloods Gehenna shoot our bloods Kowloon and Leviticus shoot Essence , taking us down. Objects of us were shared between them , and a day later they blooded each other.

Essence started in 2.7b for the second time, fourth in total.
We kept our rankers together, and made the fam again with an additional top member Gabo. We are still alive.
Current tops; Poca + Changa + Gunsandroses + Mellie + Proximus + Qausimodoo + Gabo
Thanks to Gunsandroses for submitting.
comments
---
Shakur
(01:44:38 - 30-12)